Karoo Culture on Human Rights Day - 21.03.2011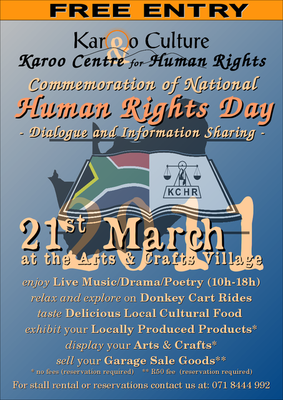 Karoo Culture en die Karoo Centre for Human Rights gaan gesamentlik Menseregtedag vier op 21 Maart 2011 by die Arts & Crafts Village vanaf 10h00 tot 18h00.
Die dag is gefokus op Menseregtedag met 'n uitstalling en geleentheid vir dialoog oor menseregte, aangebied deur die Karoo Centre for Human Rights.
Die dag sal ook 'n propvol program aanbied wat insluit drama, dans, musiek, sang, tradisionele speletjies, kosstalletjies, kuns-en handwerkstalletjies, vir almal om te geniet.

Kom geniet die dag met ons by die Arts & Crafts Villlage in Beaufort-Wes!
Karoo Culture on Heritage Day - 24.09.2010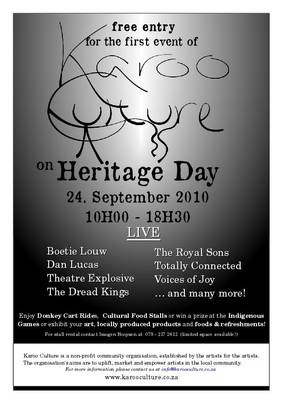 On Heritage Day we are officially kicking off with our first event at the Arts & Crafts Village.
The day will start at 10H00 in the morning and there will be entertainment right through until 18H30.
We invite everyone in the community to join us in making a success of this day. entry is free!
There will be indigenous games played (with prizes for the children), donkey cart rides, a selection of cultural food stalls and GamkaFM will broadcasting live from the Arts & Crafts Village.
Performing artists include The DreadKings, Totally Connected, Voices of Joy,
Royal Sons, Theatre Explosive, Zenande Cultural Group, New Age Gumboot
Dancers, Boetie Louw and Beaufort West's own saxophonist, Dan Lucas, to only name a few.

For this first event Karoo Culture has no funds available, and we are making do with what we have, relying on the community's support and the members' cooperation. With this event we want to show the community what our local artists are capable of by standing together as one, and making things happen instead of waiting for them to happen.
Please don't miss out on this big event ­ a first ever for the development of the future of culture in Beaufort West.

For more information please contact us at info(at)karooculture.co.za